The Ancient History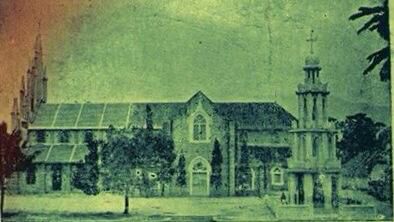 Kandanvilai Church is the first Church which is dedicated to St. Therese after she Beatified on 1923. The ancient history of Kandanvilai Church is described in a recently developed and released documentary. It covers, the life history of St. Therese and along the Kandanvilai parish as well.
In 1904, the coadjutor Bishop of Quilon, Aloysius Maria Benzigar sent a proposal to Rome for dividing the Kollam metropolis into three new dioceses as Trivandrum, Quilon and Kottar. The positive response came from Gregory XVI the Pope of Rome and agreed for the separation of the vicariate of Verapoly into three divisions for administrative convenience. They are Mangalore in the North, Verapoly in the centre and Quilon in the South. The new pro-vicariate of Quilon was provisionally formed on 12th May 1845 and the territory of the present diocese of Kottar became a prominent part of this ecclesiastical unit.
Bishop of Quilon the Most.Rev. Aloysius Maria Benzigar was invited to Rome for participating St. Therese`s Beatification ceremony on April 29, 1923; during the ceremony, there were a Bishop`s council meeting was conducted. In the meeting, Quilon Bishop was declared that, I dedicate the Kandanvilai Church which is under Quilon Diocese (previously it was under Quilon Diocese) to St. Therese and which will be the first Church to St. Therese after her Beatification; so, he let the world know about Kandanvilai Church thorugh this declaration. Based on that, a Chapel was blessed by him on April 7, 1924; afterwards, the existing Church was constructed and blessed by Karankadu formar parish priest Rev.Fr. Ignatius Maria on April 7, 1929. Watch documentary
Kottar diocese is the southernmost diocese of India, comprising the district of Kanyakumari in the state of TamilNadu. Kanyakumari (Cape-Comorin) the land end of India, which is a parish under Kottar diocese. The unique feature of the new diocese is the fact that out of the 32 priest working in the parishes of the diocese at the time of its erection, 28 were secular priests and all of them were native Indians. Out of these 28, seven were hailing with in the area of the new diocese itself. Another Unique feature was that Kottar was the third diocese in India to be entrusted to the native clergy, and the first Bishop is Most. Rev. Lawrence Pereira, was the third native Indian, who occupied the post of Bishop.
In December 22, 2014, Kandanvilai parish was merged under Kuzithurai Diocese and performing a very good parish in the Diocese.